Vastu & Feng Shui 9 feng shui effects of flying stars in 2017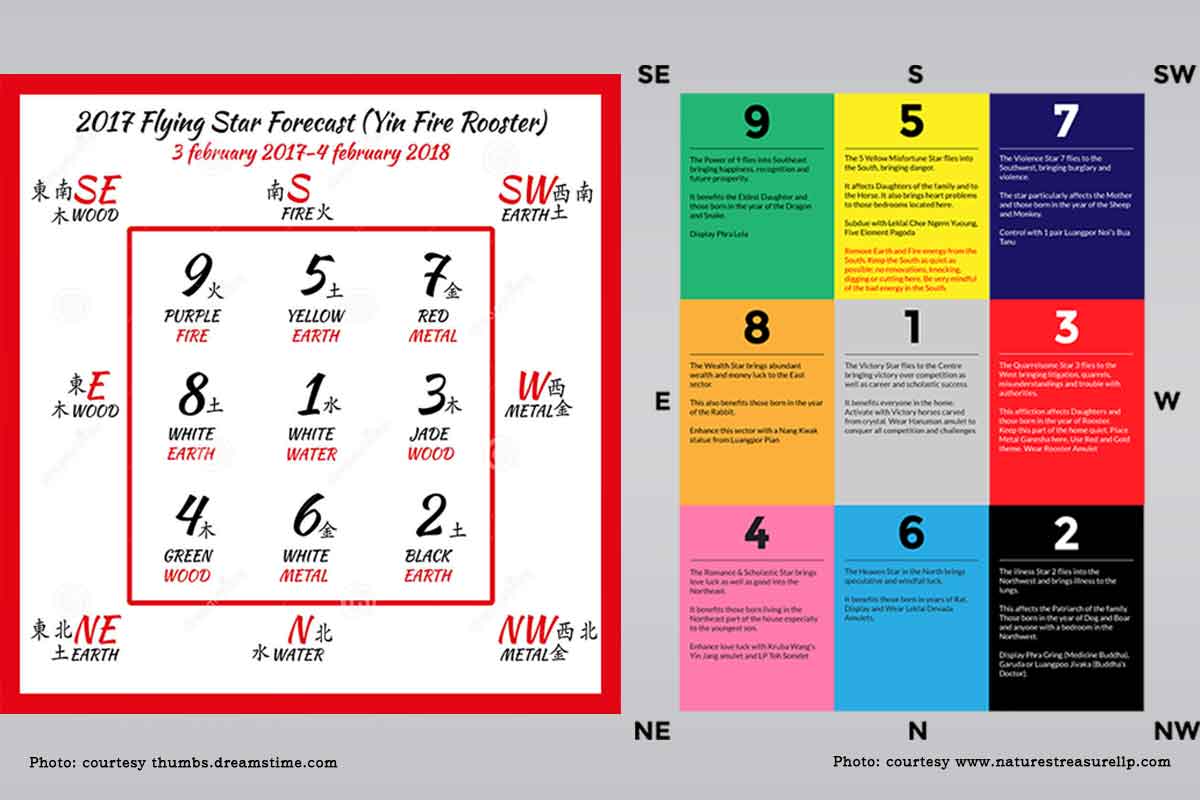 Text: Rashi Gaur
Photograph: thumbs.dreamstime.com, www.naturestreasurellp.com 
Flying star is a system in feng shui that uses time dimension to analyze the stars that are sitting in each compass direction and hence determine the good or bad vibrations that they will bring to that particular direction in that particular year, month, day or even that hour. The stars are represented by numbers that are placed in each of the 9 grids which are the eight directions and centre of your space. Vastu and feng shui consultant Rashi Gaur lists the different stars and its effects.
# 1 White star: In 2017, #1 star will move to the centre of the house. This is a star that brings career and academic success, victory luck and influential people into your lives. There will be plenty of money-making opportunities. However, the water element clashing with the earth element right at the centre also sees disruption and natural calamities linked to water such as tsunami or earthquakes.
# 2 Illness star: # 2 star will move to North West bringing with it illness energies. Old or unwell people and pregnant ladies should ideally not occupy this zone of the house. Since this is the zone of the patriarch, the men of the family will feel its impact more in terms of sickness energy. If your main door or house is facing North West or if your bedroom is in this zone, cure it with 'Garuda bird' or 'medicine Buddha stupa (relic)'
# 3 Quarrelsome star: This star will move to the West zone in the year 2017. It can bring misunderstandings, hostile situations, quarrels and even litigations to those who occupy this zone of the house. If you feel its impact strongly, it is best advised to move out of the West zone. You can tone down the anger energies by displaying 'Akala Buddha 'here.
# 4 Romance and literary star: This star will move to the North East zone. Students or those who want to enhance their expertise in the literary field and even those looking for love should occupy this zone.
# 5 Misfortune Star: Compared to all other stars, this star brings probably the worst kind of luck and must be ideally avoided. Obstacles at work, disputes related to family, intense injuries, wealth loss and severe misfortunes are some of the issues. In 2017, it will move to the South zone. If this sector can't be avoided, remedy it by carrying a peace amulet with you at all times. Wear red more often.
# 6 Heaven luck star: As the name suggests, this star brings luck from the heavens above. You will find help out of the blue. windfall, blessings and wealth luck could come to you if you occupy the North zone of your house in the year 2017.
# 7 Violent star: In 2017, this star will move to the South West zone, bringing with it injuries, fire, burglary, lawsuits and even loss of wealth. Considered the zone of the matriarch, women are more at risk for violent attacks. Carry safety amulets with you at all times. Remedy it by placing anti burglary plaque in this zone if your main door is located here.
# 8 Prosperity star: In the current period that lasts till 2024, this is the strongest and the most prosperous star. In 2017, the star will move towards the East zone. So if you have a house with entrance to the East or facing East or your bedroom in this zone, you can have the share of the pie. Be ready to embrace prosperity in terms of wealth, career advancement, promotions and increments.
# 9 Future prosperity and magnifying star: This star brings with it long term gains and magnifies future prosperity. In the year 2017, it will move to South East, bringing growth and prosperity to those who occupy this zone in their house.